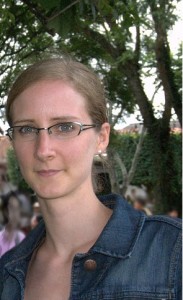 Gabrielle Pagé completed her PhD in clinical psychology from York University in 2014 under the supervision of Dr. Joel Katz. Her dissertation focused on the role of pain-related anxiety in the development and maintenance of chronic post-operative pain in children and adolescents.
She is currently a postdoctoral fellow at the Centre de recherche du centre hospitalier de l'Université de Montréal under the supervision of Dr. Manon Choinière.  Her research interests include 1) the risk factors for the transition from acute to chronic pain and the maintenance of chronic pain; 2) the role of intra-individual differences in pain intensity (pain trajectories) in the overall pain experience of patients and prognosis; and 3) the impact of medical comorbidities on patients' pain-related health seeking behaviors.
© Human Pain Mechanisms Lab, 2013. Unauthorized use and/or duplication of this material without express and written permission from this website's author and/or owner is strictly prohibited.